About Agar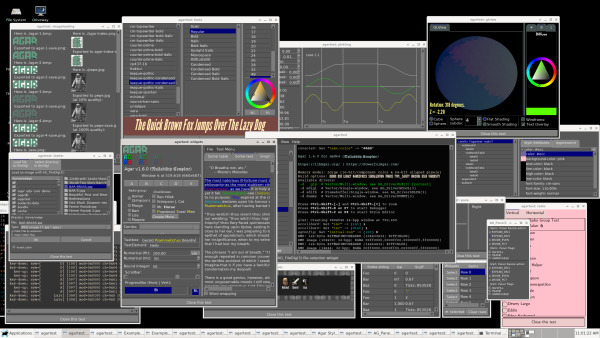 Agar (or libAgar) is a cross-platform GUI toolkit. It provides a base framework plus a standard library of widgets from which GUI applications can be built. Applications work under X11, Windows, MacOS, SDL 1.2 and others. Agar takes advantage of texture and GPU acceleration wherever available. Agar can also attach to an existing framebuffer, SDL or GL context and operate as a self-contained window-manager.
Agar includes a standard library of general-purpose widgets which is extensible. New widgets can be added and complex user interface elements may be realized in few lines of code. The class registration interface simplifies the process. Examples of external packages which include Agar widgets for specific fields include ag_math, ag_sg, ag_sk, ag_vg and Edacious,
Agar is also extensible at the low-level. The low-level API is documented such that modular drivers can be written which enable applications to work seamlessly under many platforms and graphics systems.
Agar is free software. Its source code is freely usable and re-usable by everyone under a 2-Clause BSD License. Core fonts are released under the OFL.

The best available version is v1.6.0.